The Height of Living.
For Tricar, there is only one standard to live by – the highest. That's why, for over 35 years we've been developing and managing high-rise apartment rentals and condominiums that stand out from the rest in every way.
We've risen to the challenge of creating luxury that's effortlessly liveable. First, we source prime locations for our builds, bordered by in-demand amenities. Then, we serve you excellence from the groundbreaking start, to the top-quality finished product providing superior customer service every step of the way. In-house expertise is what makes us a tower of strength in our industry and premium personalization is what makes our locations the most sought after in London, Guelph and Sarnia. Our designs are not just concepts, they're commitments and every step of the process is fully managed and maintained. Welcome to effortless living where a downsize is never a downgrade.
We top it all off with a commitment to our community that's as strong as our promises to our residents because it's less about just standing tall and more about standing together.
Begin your experience with us today and discover why homeowners have helped honour us as a six-time finalist and three-time winner of the prestigious Tarion Ontario High-Rise Builder of the Year Award. We look forward to welcoming you home.
Creating community. Building a legacy.
Our mission is to be an industry leading builder of premier mid and high-rise communities with a commitment to enduring quality and exceptional customer experience.
Ensuring an exceptional customer experience is our promise. While we've been honoured by coveted awards, it's the satisfaction and confidence expressed by residents and our community that continues to drive us to new heights.
Welcome to Tricar.
A True Neighbour
The Tricar Group is committed to making communities better – where we live and where we build. Our loyalty and dedication to improving those communities also means making a difference through our charitable donations and participation in philanthropic causes. Our entire team is passionate about getting involved, participating and helping those less fortunate.
We donate our time and our resources to support children's programs and assist the less fortunate throughout Southwestern Ontario. We donate to over 40 charitable & community groups and our employees give of their time, serving dinners to Ronald McDonald House families, supporting the local food banks, building Habitat for Humanity homes and more. We partner with and support events alongside various mental health associations and hospital foundations to support their initiatives for better healthcare in our communities.
It's An Honour
The Tricar Group was honoured to be a six-time finalist and three-time award winner of the Ontario High-Rise Builder of the Year as recognized by the Tarion Warranty Corporation's Awards of Excellence. This award is the home building industry's most coveted award for customer service. The award recognizes new home-builders based solely on the homeowners' satisfaction with their customer service delivery.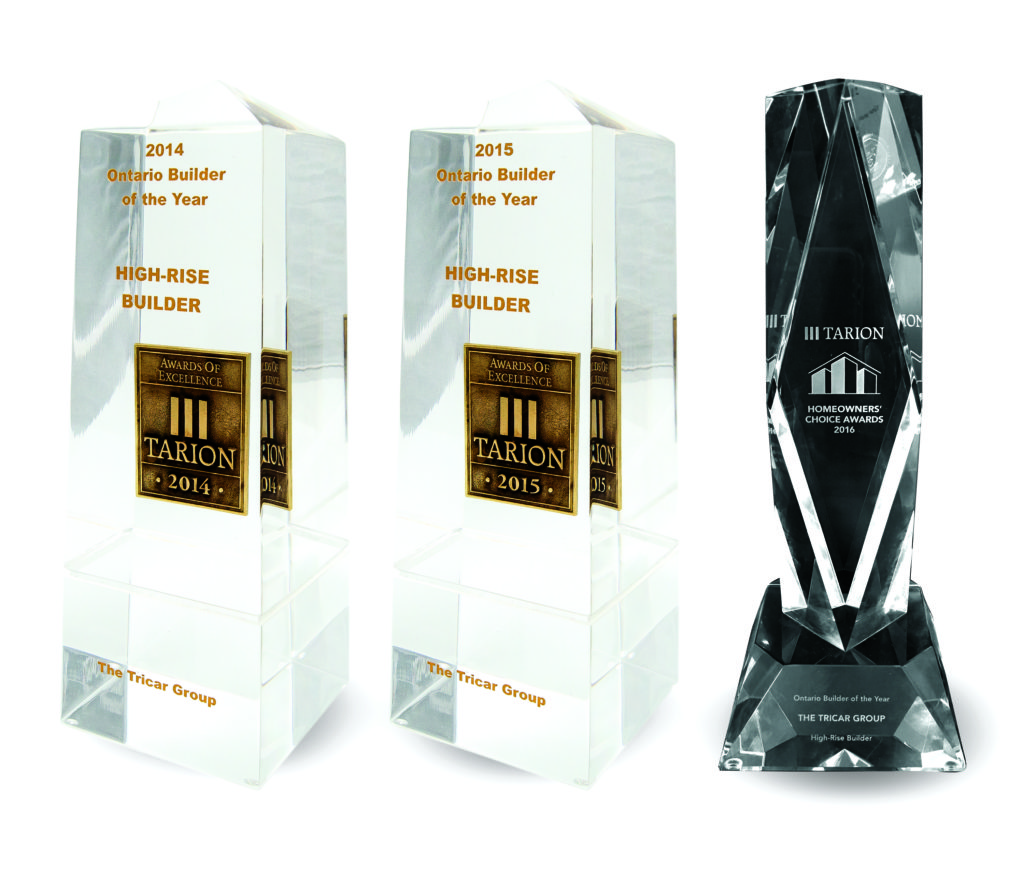 Visit our Awards page to see additional awards we are proud of.
The Home Construction Regulatory Authority (HCRA) regulates new home builders and vendors in the province. We protect the public interest through a fair, safe and informed marketplace that supports the goal of a continuously improved home building industry in Ontario.
Click here to view the Licence Certificate
Contact Tricar Today
Want to learn more about Tricar? Have questions? Submit our contact form and a Tricar representative will get in touch with you.